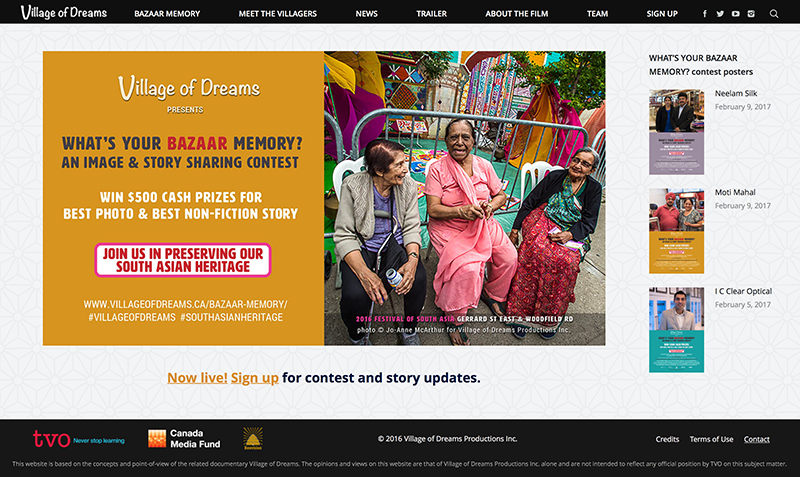 In Production with TVOntario
Producer/Web Designer Nina Beveridge
Producer/Editor Paul Hart
Web Developer Chris Monson
Website www.villageofdreams.ca
Website is now live with content updates extending to Canada Day 2017 and beyond.
Village of Dreams explores our collective Canadian identity through the microcosm of the ethnically diverse Toronto business community known as Gerrard India Bazaar. The blend of grocery, jewellery and clothing stores, religious supplies and beauty shops, cafés, restaurants and galleries are owned by a diverse group of South Asian immigrants combined with a recent wave of non-South Asian entrepreneurs. This stretch of East Toronto is a vibrant, expressive, unique and colourful mosaic that is ever changing. Here we see the Canadian dream in action, exhibited by the community's desire for success and passionate entrepreneurial spirit.
Since the spring of 2016 and until spring 2017 we have been documenting the activities, lifestyles, dreams and aspirations of this multi-cultural, diverse community. The website features a poster campaign to promote our "What's Your Bazaar Memory?" photo and story sharing contest. On Canada Day we will be deploying a series of web documentaries that explore the South Asian entrepreneurs of the Bazaar as well as the new wave of non South Asian business owners. It's a community that is in constant flux but still retains a rich and colourful South Asian flavour.