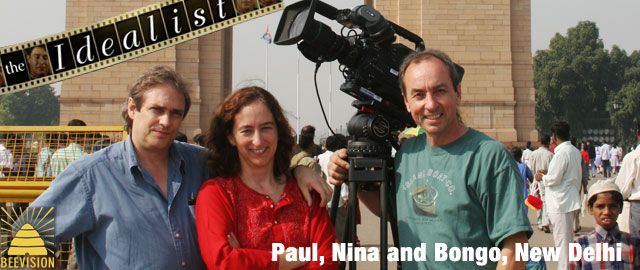 Film, TV Series and Websites
2011 – 2014 Cross Platform Producer / Website Designer
The Ghosts In Our Machine / theghostsinourmachine.com (documentary channel)
The documentary film, directed by Liz Marshall, has earned numerous awards, nominations and accolades (http://www.theghostsinourmachine.com/awards) and the extensive Webby nominated website and social media channels were selected as a case study for their "exemplary social media campaign & partner-building strategies" in an international online resource: www.tmcresourcekit.com.
2014 Project Manager / Website Designer –  celebratingeccentrics.com
(Real to Reel Productions/ Super Channel)
A companion website to a documentary film by John Zaritsky called "A Different Drummer" that explores eccentricity.
2013 Production Manager  –  Museum Diaries TV Series (Up Front Entertainment/TVO)
Based at the ROM, this series observes the behind the scenes activities of the ROM Project Managers, Curators, Archivists and the rest of their teams as they plan, mount and manage their exhibits.
2007 – 2009 – Cross Platform Producer / Creative Director  "Pop It!" / popittv.com  (TVO)
Produced two seasons of a kids dance TV series for TVO which has sold all around the world (2007-09). The "Pop It!" website featured a popular online mash-up tool developed by the Hop To It team and hosted by TVO Kids called Popmania. In 2009 "Pop It!" was nominated for a Gemini award: Best Cross Platform Production and was nominated for 2 ACT Awards: Best Cross Platform Production and Best Interstitial.
2008 – 09 – Producer / Director / Writer "Suck It Up Princess"  (OMNI TV)
The documentary film was about the life of Renee Rodrigues, a victim of Congenital Muscular Dystrophy and it was a labour of love for Nina and team.
2007 – Producer / Creative Director "cupidscafe.ca" pilot
Nina and Susie's multi-platform game "Create A Date" became the Winner of Round One in The Great Canadian Video Game Competition (2007). Re-branded as "Cupid's Café", the project won Nina and Susie a scholarship to the Banff Interactive Project Lab, participation at the Vancouver Fusion Forum, an ipitch slot at the Banff TV Festival and a slot in the Ontario Showcase featuring innovative Ontario talent in the "ICE" Conference in Toronto.
2007 – Producer / Designer – "Hip Hop in the T-Dot" / hip-hoptv.com
2006 – Producer / Designer  – "Big Grin's House Party" / biggrinshouse.com
2004-5 – Producer / Director / Writer
"The Idealist – James Beveridge, Film Guru" (TVO, Knowledge, Bravo!, SCN, Access TV)
A documentary film shot throughout India, the USA and Canada about the life of Nina's father, James Beveridge, a documentary film pioneer.
2003 – Producer "The Calling" (Olympic Spirit Toronto)
An award winning High Definition documentary short film, mixed in 10.1 surround sound, for Olympic Spirit Toronto. Nina has since been collaborating with Olympic Spirit President  and CEO Mark Dzenick to develop a strategy to roll out Olympic Spirit centres world wide.
Two favourite service projects produced through Beevision:
2001 – Creative Director / Project Manager – "Festival of Creative Genius" (Harbourfront)
Editing, graphic design and animation for 13 large scale multimedia experiences that honoured (in person) some of the world's greatest living creative geniuses including Robert Rauschenberg, Frank Gehry, Peter Gabriel, Joni Mitchell, Bernard Bertolucci, Harold Pinter and Steven Sondheim among others (2001).
1995 – 97 Creative Director / Producer – Toronto Raptors Basketball Club Broadcast design package
During their launch years, Beevision created the Raptors broadcast design, animation and some of their promotional materials.