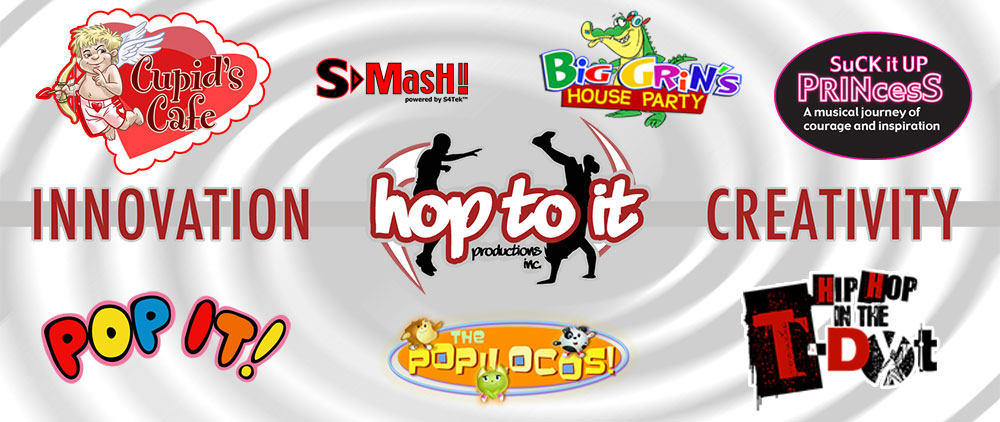 Hop To It Productions Inc. (www.hoptoitproductions.com) is a an independent media production company owned 50% by Nina Beveridge and Paul Hart of Beevision Productions Inc. (www.beevision.com) and 50% by Susan Nation , Pink Rabbit Productions. Hop To It Productions Inc. was incorporated in June 2006.
Hop To It has been a pioneer in interactive projects. It was set up to develop, produce and market innovative multi-platform content and products. Relevant projects that empower, entertain, engage, and sell well in Canada and in the International marketplace. We have been experimenting with building online properties, apps and communities and using social media for the last 10 years. We have successfully identified market opportunities early (dance, online romance, women gaming, kids, pets).
We had one of the first YouTube Channels in Canada in 2007 and continued to break barriers as the only female finalists in Telefilm Canada's Great Canadian Video Game Contest, and with our award winning kids, dance and pet projects. We are proud to promote diversity and strong female roles in front of the camera and behind the scenes. We are passionate about kids programming and content, as well as pets and making a difference.
Hop To It Productions Inc. looks at traditional Canadian funding for content through license fees, international pre-sales, distribution advances, tax credits and funds, but also at alternatives like sponsorships, advertising partnerships, crowd-funding, retail partnerships, mobile partnerships, OTT, live events, merchandising and collaborations both within and outside Canada. The Hop To It strategy for growth is to generate and grow mainly original proprietary work and strong partnerships, as well as consulting or licensing in production, YouTube, branded entertainment, sponsorships, blogging, social media, PR, videos, development, marketing and events.
Completed Properties include:
• Susan Nation created and produced the award winning Talent Hounds 1 hour Doc plus 4 x half hour episodes exploring the roles dogs play and how they enrich our lives supported by The Pet Network, CMF and The Bell Fund. She has also built and manages a large online community reaching hundreds of thousands each month and become a Pet Influencer:
www.talenthounds.ca
www.facebook.com/talenthounds
www.youtube.com/talenthounds
www.twitter.com/mytalenthounds
• The anti-discrimination video Love Like A Dog won best Pet Video of the Year BlogPaws Influencer Group Awards in 2017. The pilot for the web-series comedy Backseat Barkers (dating with dogs) spun out of Talent Hounds was nominated in 2016.
• Award winning Pop It! 2 Seasons 52 x 5 minutes dance-along TV series with original music, great choreography, live action performances, instruction and new media supported by TVO, SCN, ACCESS, Knowledge, Nickelodeon, Bell Broadcast and New Media Fund, Shaw Fund, Telefilm, OMDC- see www.popittv.com.
• Multi-award winning Suck It Up Princess English and Portuguese 1 hour doc and new media for OMNI about a young girl with muscular dystrophy.
• Hip Hop in the T-Dot 6 x half hour TV series and associated properties like Dance Breaks and innovative new media and music for Rogers, Bravo and Pizza Pizza supported by the Bell Fund (website no longer active), http://www.youtube.com/user/HopToItProductions/, one of first YouTube partners, web series and live-action dance shows
• www.biggrinshouse.com (flash website) online and live pre-school project supported by Rogers and the Bell Fund
• Successful PSA series Get Active with Omni in English, Farsi, Mandarin, Spanish, Portuguese and Tamil.
• Marketing award winning That's So Raven Eye On Fashion event and video with Disney, Wal-Mart and Children's Miracle Network.
• Live Shows with Kids and Dogs – Word On The Street, Canadian Pet Expo, Woofstock, PawsWay, Dog Lovers Days, Hilary Duff.
Other achievements by the team:
• The Talent Hounds Docs and DM have won international awards and recognition and now reach hundreds of thousands a month across TV, YouTube, websites, social media and at live events (Platinum and Golds at Worldfest, BlogPaws Influencer and Videos of the Year, CPE).
• Pop It! just got renewed by TVOKids and was nominated for Gemini and ACT Awards for best Cross Platform and won Young Artist Award in LA March 09 for best host- Shemar in Pop It! Garnered excellent reviews and press and sold in over 10 countries.
• Pop It! Crew performed at ACT Awards, Word On The Street and various charitable events and schools. Lamar is now a star of international success story Next Step.
• Susan Nation won Deal Maker Live at Banff Media Festival 2011.
• Finalist CTV Documart Banff 2007 for Suck It Up Princess about Renee Rodrigues our web moderator who has muscular dystrophy.
• Top 10 in the Telefilm Great Canadian Video Game Contest in March 2007 with innovative multi-platform game Create A Date – attended GDC 2007 and 2008
• Cupid's Café finalist in Banff iPitch 2007 and selected for Banff IPL 2007
• Winners of the 2007 Canadian Film Center Telus Innovation Award.
You might be interested in this.